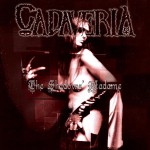 Black Tears is proud to announce they have reached an agreement with the band CADAVERIA for the reissue of "The Shadows' Madame" album. Released in 2002, the cult album that marked the beginning of CADAVERIA career, has become extremely rare by now. So it's time to make it available again to all fans. This new issue, proposed with a brand new layout, is completely remastered and it contains songs such as "Spell" and "Circle of Eternal Becoming" that have become classic hits of the band.
The release of "The Shadows' Madame" reissue is scheduled for July 16th, 2013 and it will be distributed by Black Tears Mailorder and Masterpiece Distribution.
Here, to refresh fans memory, the full track list:
Spell
Declaration of Spiritual Independence
In Memory of Shadows' Madame
Circle of Eternal Becoming
The Magic Rebirth
Black Glory
Absolute Vacuum
---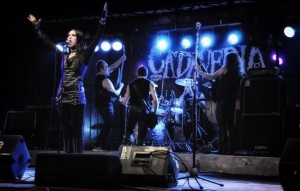 Black Tears è orgogliosa di annunciare di aver raggiunto un accordo con la band CADAVERIA per la ristampa dell'album "The Shadows' Madame". L'ormai introvabile album, realizzato nel 2002, sancì l'inizio della carriera della horror metal band italiana, capitanata dalla carismatica cantante Cadaveria. E' quindi tempo di riproporlo ai fans con una veste grafica differente. Interamente rimasterizzato, contiene brani quali "Spell" e "Circle of Eternal Becoming", divenuti oramai dei classici della band. L'uscita della ristampa di "The Shadows' Madame" è prevista per il 16 luglio 2013 e sarà distribuita da Black Tears Mailorder e Masterpiece Distribution.
Di seguito, per rinfrescare la memoria dei fans, la track list completa:
Spell
Declaration of Spiritual Independence
In Memory of Shadows' Madame
Circle of Eternal Becoming
The Magic Rebirth
Black Glory
Absolute Vacuum