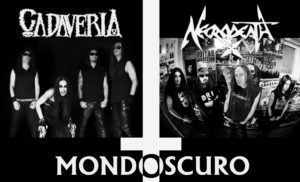 CADAVERIA + NECRODEATH = MONDOSCURO
MONDOSCURO will be the title of the EP involving CADAVERIA and Necrodeath, currently in the studio together to complete the mix of what promises to be the most diabolically unusual release of 2016.
The title refers to the cinematographic genre "Mondo film" of explicit documentaries, born in the 60s and depicting sensational, bloody and shocking scenes. MONDOSCURO also clearly recalls Mondocane project, the legendary collaboration of Necrodeath and Schizo from which the album "Mondocane: Project One" was born in 1989.
MONDOSCURO will not be a normal split, but a joint partnership that will see the two bands interacting strongly, through a track-list that alternates new songs to covers and that will include many identity exchanges. The EP will be released in a few months via Black Tears of Death. Stay tuned for more details!
MONDOSCURO sarà il titolo dell'EP che vede coinvolti CADAVERIA e Necrodeath, attualmente in studio insieme per completare il mixaggio di quella che si preannuncia essere l'uscita discografica più diabolicamente insolita del 2016.
Il titolo rimanda al genere cinematografico "Mondo movie", proprio dei documentari espliciti nati negli anni '60 e diventati famosi per le loro scene cruente, bizzarre e scioccanti. MONDOSCURO rievoca inoltre chiaramente il progetto Mondocane, storica collaborazione che vide impegnati Necrodeath e Schizo e da cui nel 1989 scaturì l'album "Mondocane: Project One".
MONDOSCURO non sarà quindi un normale split, ma una collaborazione congiunta che vedrà interagire fortemente le due band, in una scaletta che alternerà brani inediti a cover e che prevederà molti scambi di identità. L'EP sarà rilasciato tra pochi mesi da Black Tears of Death. Restate sintonizzati per maggiori dettagli!